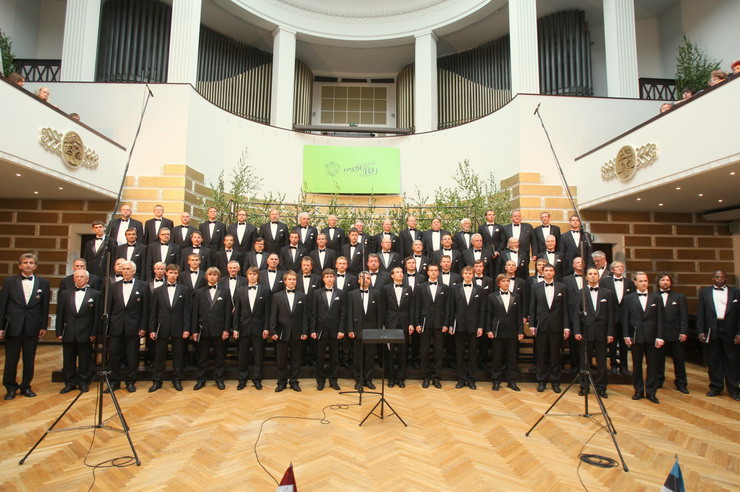 Riga Technical University Male Choir GAUDEAMUS was founded in 1959.
In 1996 Ivars Cinkuss became Artistic Director and for the past decades Gaudeamus has been the leading male choir in Latvia.
The diverse repertoire of this group ranges from traditional Western European and Latvian classics to modern day, encompasses various genres, including choral arrangements of Latvian and other folk songs, ethnorock projects, but with the major focus on a cappella singing. Gaudeamus has made numerous recordings for the Latvian National Radio and released six CDs. The 2006 album featuring Russian orthodox music was nominated in the category Best Classical Music Album of the year in Latvia's equivalent of the Grammy Awards.
Since its inception the choir has given countless concerts across Europe, USA, Australia, South Africa and China performing among others in Wiener Musik Verein and Beijing's Forbidden City Concert Hall. Beginning with 1989 the choir has also participated in many international choral competitions where has earned numerous prizes and awards including the Champion title at the 8th World Choir Games in Riga in 2014. Gaudeamus has served as the Choir in residence at the International Festival of Singing Boys and Men in Minnesota (USA) in 2005.
On numerous occasions Gaudeamus has cooperated with the Latvian National Symphony Orchestra, most recently in concert performances of Ludwig van Beethoven's opera Fidelio . In 1999 Gaudeamus began to work closely also with another professional group Liepaja Symphony Orchestra performing large-scale choral works for male voices and orchestra, most notably Rhapsodie by Johannes Brahms, Das Berliner Requiem by Kurt Weill, Requiem in d minor by Luigi Cherubini, world premiere of Magnificat by contemporary Latvian composer Jānis Lūsēns and cantata Rinaldo by Johannes Brahms.
In recent years a top priority for the choir has been to promote the creation of new Latvian music for male voices. In the few previous seasons Gaudeamus has commissioned and premiered numerous new works by Maija Einfelde, Uģis Prauliņš, Rihards Dubra, Edgars Račevskis, Andrejs Selickis, Nick Gotham, Juris Kulakovs and Ēriks Ēšenvalds, making a significant contribution to modern day Latvian choral repertoire.